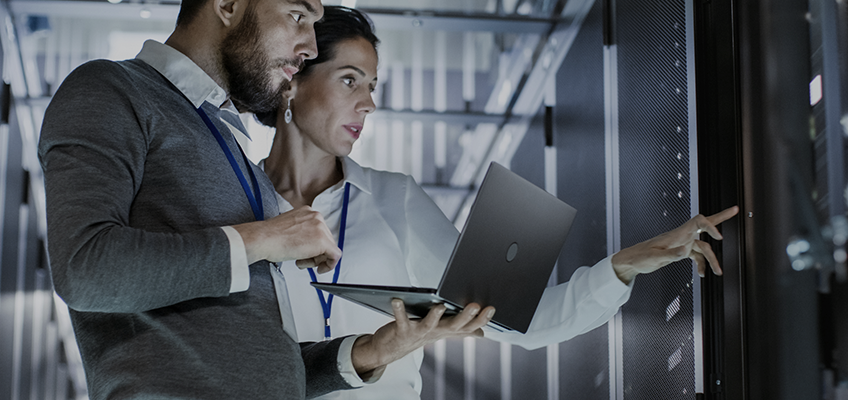 Data centers are critical facilities that house computers, storage, and systems, which are all crucial for the daily operation of any modern business. There is currently a trend of enterprises moving their IT assets to co-location, data center, and cloud service providers. Gartner predicts that by 2025, 80% of enterprises will migrate entirely away from on-premise data centers. Enterprises see this migration as a method for reducing their costs and improving the quality of their IT services.
Compared with a build-your-own approach, data center service providers enjoy the economics of large-scale facilities, enabling them to meet the requirements of an enterprise at a lower operational cost. They also benefit from increased operational efficiency under the assumption that any given resource is never fully utilized by all their customers at the same time. While oversubscription is a common practice in the marketplace, it has an impact on the quality of their customers' IT experience.
The main challenges for data center service providers
Enterprises are demanding contractual Service Level Agreements (SLA) and periodic assurance and proof that these SLAs are met. In contrast, data centers are looking for ways to increase their profitability with higher levels of efficiency without sacrificing the ability to meet customer SLAs.
Successful data center service providers want to help their enterprise customers increase revenue, maximize productivity, and have the ability to scale over the long term.  The key to success is to provide higher IT quality at a lower cost, which can scale to meet future needs.
Some of the main challenges confronting data center service providers are:
Managing costs: ensuring high levels of network utilization, resolving faults quickly, and investing in additional capacity only when it is required.
Meeting and validating SLAs: offering high-scale and high-performance policy enforcement and reporting to clients.
Increasing revenue: offering value-added services that provide visibility and control on a multi-tenant platform that scales.
So, how can data center service providers overcome these challenges and attract (and keep) big enterprise customers?
The 7 top benefits leading data center service providers deliver to enterprise customers
1. Tiered services and SLA Enforcement
Tiered services are a proven commercial model to maximize revenue opportunities. By offering various levels of service at different prices you can address a broader market of customers. Policy controls enable you to aggregate the overall capacity of the data center for higher levels of network utilization and virtualize it to offer cloud and co-location services with different levels of oversubscription and quality.
Key Benefits
Maximize revenue opportunities by offering a range of tiered services
Accommodate a wide range of customer workloads and SLA requirements
Maximize network resource utilization
2. SLA reports & billing
Whether network service level agreements are based on minimum bandwidth guarantees, utilization, packet loss or delay, the data center must provide analytics to suit enterprise needs. The automatic generation of periodic SLA reports enables the data center service provider and the tenant to verify that network SLAs are met. Reports that accurately measure per-tenant network usage can be used to create usage-based billing based on data transfer capacity, or calculated by the 95th percentile method.
Key Benefits
Generate accurate, detailed, and customizable reports for tenants
Successfully manage customer SLAs on any scale
Customizable to create your own billing or SLA scheme
3. Increase operational efficiency
Network analytics provide historical and real-time reports to help the data center service provider identify and fix issues before they become problems.
Real-time analytics provide the ability to rapidly identify root causes and fix problems quickly, whether they are related to tenant resources or shared infrastructure, remote locations, WAN links, or applications. Historical and trend analysis of network performance and usage support infrastructure investment decisions and indicate where and when they are needed.
Key Benefits
Reduce time and cost related to troubleshooting
Make data-driven decisions related to network investments
Identify and resolve issues before they become a full-blown crisis
4. Analytics as a service
Data centers should provide tenants with revenue-generating  analytics for their slice of the network in the data center. Whether their concern is security, troubleshooting, or operations-related, on-line access to analytics can help customers prioritize applications, create access controls, identify usage trends, and solve issues before they become a crisis. These reports can also help identify and remove applications that are inappropriate or risky, such as crypto-mining, anonymizers, and peer-to-peer applications.
On-line analytics should provide real-time visibility on every network transaction and historical data valuable to both the IT Operations and Security staff.
Key Benefits
Revenue generation with value add
Enables tenants to increase operational efficiency
Enhances security forensics and event handling
5. Traffic management & application control as a service
Significant value is created by providing each tenant with the capability to prioritize applications based on network requirements and how critical each application is to their business. Applications, servers, or sites can be grouped into virtual channels and managed accordingly.
By prioritizing applications based on network requirements and importance, and limiting administrative and non-business-related applications, each tenant can align network performance to their specific business priorities within their allocated resources. This also provides an additional mechanism for maintaining service quality during peak hours of share resources.
Key Benefits
Align network performance with the business priorities of each tenant
Maintain service quality during peak hours
Allows the creation of new revenue streams through the offering of policy options to tenants via a self-service portal
6. Network hygiene
With the proliferation of VPNs, streaming, torrent, and peer-2-peer applications, tenant resources can be flooded with traffic that impacts business-critical applications and increases the attack surface that they represent.
Data center service providers should provide a smart monitor and control framework that increases customer satisfaction by improving IT and network utilization, reduces liability related to the theft of pirated content, and reduces the attack surface, which is critical because many of these apps are used to introduce malware and steal intellectual property.
Key Benefits
Reduce the attack surface by blocking risky applications that could affect all data center tenants
Generate incremental revenue by offering network hygiene as a service
Identify compromised servers and infected hosts
7. Distributed Denial of Service (DDoS) protection
DDoS attacks are growing in intensity and sophistication every year. Low volume and short-lived attacks confound most DDoS mitigation solutions. Furthermore, infected endpoints within a data center can generate DDoS attacks from within, creating liability and disrupting service for other tenants.
By combining advanced traffic management with behavioral DDoS detection and mitigation, zero downtime can be achieved by network hardening, prioritization, and sub-minute detection and mitigation.
Key Benefits
Protect data center availability and efficiency
Reduce liability by blocking attacks from within
Generate incremental revenue with DDoS protection as a service
The 8 best data center management strategies
To attract and keep big enterprise customers, data center service providers must optimize and deliver value:
Pool, virtualize, and allocate network resources for maximum efficiency
Offer multi-tier levels of service for differential pricing models to maximize revenue
Increase revenue with value-add services
Protect tenants and shared infrastructure from DDoS attacks
Provide meaningful and detailed analytics to validate SLAs and also as a value-add
Enable tenant application prioritization for the highest QoE
Offer network hygiene services as a value-add and lower the risk of attacks from within
Gain overall visibility on network utilization to invest where and when it's needed and improve operational efficiency.
Enterprises and other organizations expect to benefit from migrating all or part of their IT to a data center service provider. At the top of the list of benefits are typically better IT services and lower operational costs. Data center service providers are looking to increase their profitability with higher levels of efficiency and still meet customer SLAs.
The best management strategies effectively achieve these goals and support data center service providers in achieving high levels of network efficiency. Access virtualization and detailed network analytics enable the data center service provider and its tenants to fully utilize the available capacity allocated to them and verify that service level agreements are met. Additional value can be created by providing tenants with visibility on what is running in their network and giving them control to prioritize their own applications and maintain network hygiene.
We have additional details, case studies & real-world examples, and other material to share, which you might find useful. Contact us to learn more and see how we might be able to help.