Keysight continues to support customers by sharing our expertise and developing products that help solve real-world problems. Cybersecurity issues such as ransomware, malware, and DDoS attacks continue to weigh heavy on the minds of security and networking professionals in 2020.
Keysight Tackles Security Operations Effectiveness
Security operations (SecOps) teams are faced with a very complicated network infrastructure to protect what is on-premises, in private data centers, and in the cloud. They invest a lot of resources – both time and money – in security solutions to protect their organizations.
Keysight recently conducted a Security Operations Effectiveness survey which illustrated some of the issues that SecOps teams face in today's complex environment. One key take-away is that security professionals may be overconfident in their security tools as only 50% of respondents reported that they have experienced a security breach because one or more of their security solutions was not working as expected.
Security testing such as penetration testing is often performed once a year and represents how a security infrastructure performs at that point in time. Unfortunately, security conditions can change from day to day as new attacks develop and old ones evolve in a very fluid threat environment.
In order to help customers deal with the highly dynamic security environment, Keysight launched a new family of solutions, Breach Defense, to help customers continuously test their security posture. Launched at the RSA Conference in San Francisco, Keysight's Scott Register took to the stage at the show to discuss a new product in the platform, Threat Simulator, which joined ThreatARMOR, the threat intelligence gateway. Both products leverage the threat intelligence provided by Keysight's Application and Threat Intelligence Research Center which has 15 years' experience developing a large database of exploits, DoS, DDoS, phishing, live malware, and applications, real-time cloud threat intelligence, evasion techniques, application profiles, and a global IP address database.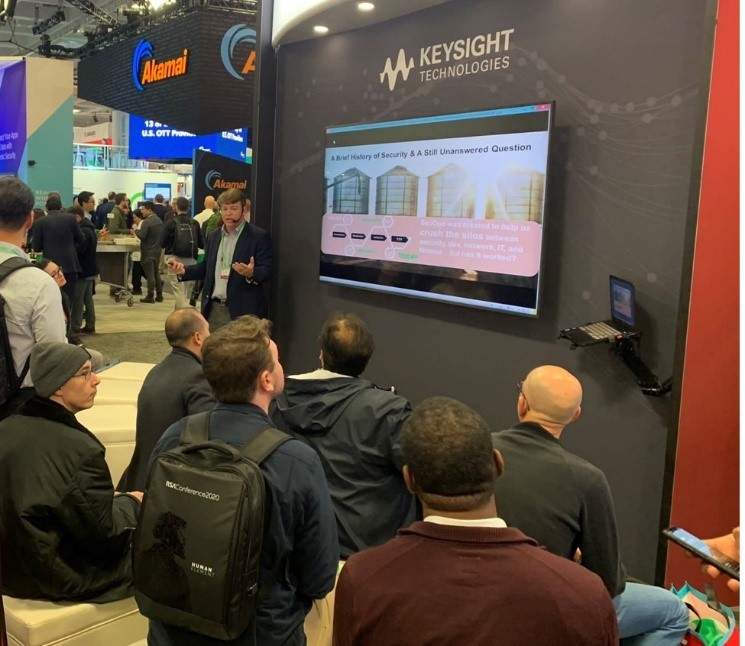 Threat Simulator provides SecOps teams a way to test security tools to determine their effectiveness. It provides a continuous, automated security assessment of end-to-end production network security infrastructures, enabling SecOps teams to quickly spot gaps such as security configurations that are left open. A patented recommendation engine provides clear remediation steps to the misconfiguration or vulnerability.
Keysight Brings Expertise to Network Security Professionals
Recently, we took the opportunity to share our security expertise with IT professionals at conferences around the world.
Mark Pierpoint, president, Keysight's Network Applications & Security group, recently participated in a panel, Surviving the Breach, Incident Response Beyond Plan A with other security leaders at the Global Cybersecurity Forum in Dubai. Mark discussed how Keysight helps customers around the world not only respond to attacks, but also how to deploy a resilient network monitoring infrastructure to gain visibility into their networks to find anomalies on their networks faster, recover faster, and minimize business disruption.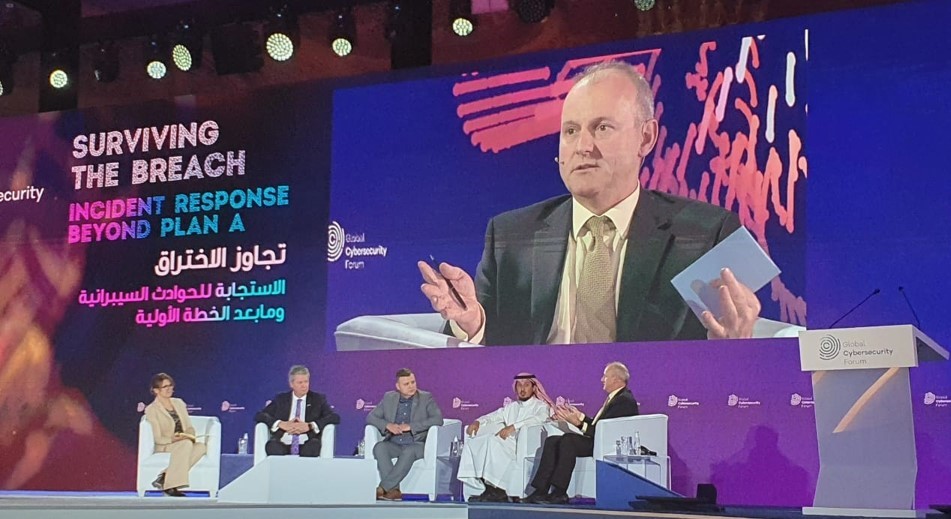 Also at RSA, Keysight gathered together security experts for a special panel, "Are Artificial Intelligence and Machine Learning Being Used Against You – And Is It Too Late to Stop It?" The session, moderated by Keysight security expert Phil Trainor, featured Diana Kelley, Microsoft cybersecurity CTO, Sean Cordero, head of Cloud Strategy for Netskope, Justin Harvey, Global Managing Director of Accenture, and Chris Morales, head of security analytics at Vectra. While the human element was the theme of the RSA conference, the session focused on how AI and machine learning might be used by hackers and potential ways to protect organizations and individuals (humans) against potential threats.
Keysight Recognized for Security
We are proud and honored that our efforts were recognized at the RSA Conference with a Cyber Defense InfoSec Award in the Next Gen, Network Security and Management category. The award recognized Keysight's ongoing commitment to helping our customers protect their organizations from cyberattack. "Keysight embodies three major features the judges look for to become winners: understanding tomorrow's threats, today, providing a cost-effective solution and innovating in unexpected ways that can help stop the next breach," said Gary S. Miliefsky, publisher of Cyber Defense Magazine.