So what does NetBrain automation actually do? How does its automation help with the hundreds of tasks you face every day? Here are 10 common challenges that NetBrain tackles with its automation platform.
1. Replace manual network diagrams with Dynamic Maps
Your network is getting increasingly complex (physical, virtual, SDN, hundreds of model types from dozens of vendors) and constantly changing, but network diagrams stay static unless updated with every change. It's become impossible for humans to maintain up-to-date enterprise network diagrams. But NetBrain's Dynamic Maps are automatically created and updated from live network data. With only a click or two, you can visualize virtually any network information —  topology, configuration, design, even data from your other NMS — in real time. Just like Google Maps changed forever the way we think about street maps, NetBrain's Dynamic Maps have redefined network diagrams.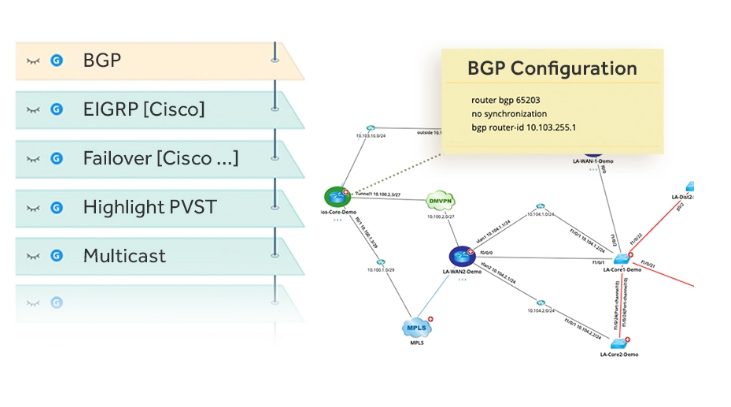 2. Calculate end-to-end path across heterogeneous multi-vendor infrastructure
Automatically map out any network path end to end — through firewalls and load balancers, across virtual devices — in seconds, not hours. An intelligent deep discovery engine allows NetBrain to dynamically calculate any application path, hop by hop, across the network with just a source and destination address, taking into account access-lists, NAT, policy-based routing, VRF design, and more. Save a map of the path and monitor it automatically, and identify changes over time. NetBrain even maps A-B paths traversing both SDN and non-SDN infrastructure. It's like traceroute on steroids.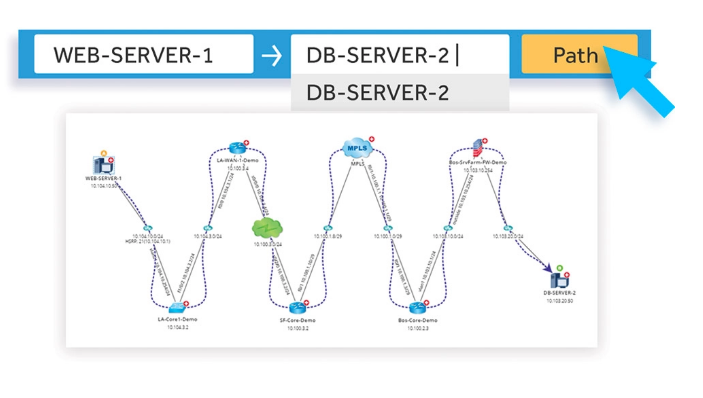 3. Accelerate CLI-based troubleshooting with runbook automation
If you're like most network engineers, only about 20% of your troubleshooting time is spent actually fixing the problem. The other 80% is collecting data (and maybe tracking down someone who's got specialized subject matter expertise). NetBrain flips that equation around. Instead of crawling through CLI consoles, issuing one command at a time, device by device, NetBrain's Executable Runbooks let you automate CLI commands across 2 or 200 devices in one fell swoop (without writing a single line of code) and have expert know-how already documented. You see the diagnostic results visualized on the map, and your next best steps are all queued up ready to execute with just a click.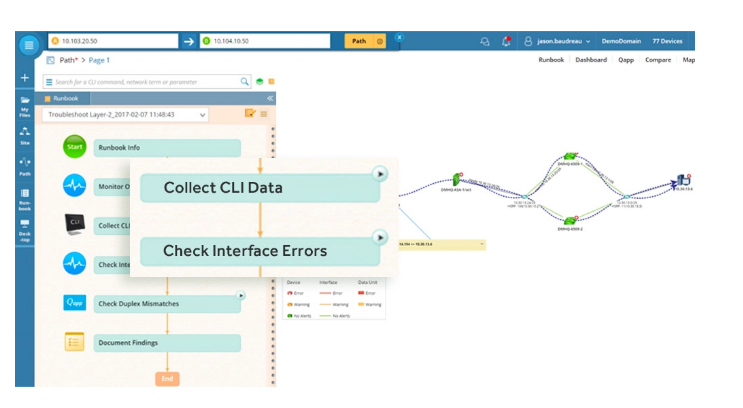 4. Proactively automate root cause analysis for common issues
Everybody involved with the network — from entry-level NOC guys to the C-suite — is under the gun to reduce MTTR and answer the question, How can we do better next time? NetBrain empowers you to go from reactive to proactive by "shifting the workload left" so that more tickets get resolved further upstream. Incorporate lessons learned from troubleshooting one event into executable steps that can cut down on incident response (especially expensive escalation steps) the next time. With Executable Runbooks, you convert post-mortem findings into automated diagnostics so that  second- and third-tier know-how gets shared with first-tier responders.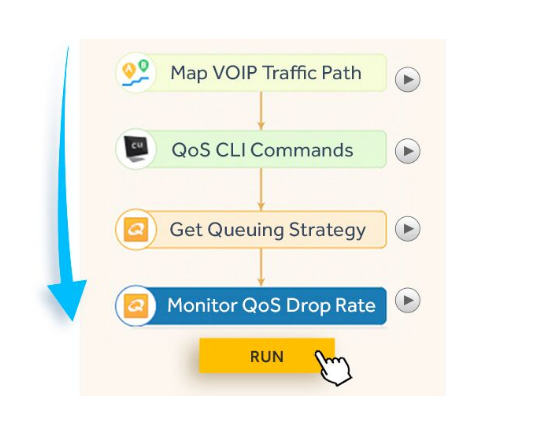 5. Intelligently baseline network, across hundreds of parameters via AI
AI-powered auto-baselining detects the anomalies that matter. Sophisticated algorithms discover, record, and analyze up to 12,000 variables per device — cpu utilization, memory usage, routing tables, duplex settings, collisions, BGP peers, etc. — to automatically learn what's "normal" for your particular network. As your network changes, so does this Golden Baseline. You get alerted on any deviations from specified variables or patterns. And the dynamic baseline serves as a basis for network management analysis and troubleshooting.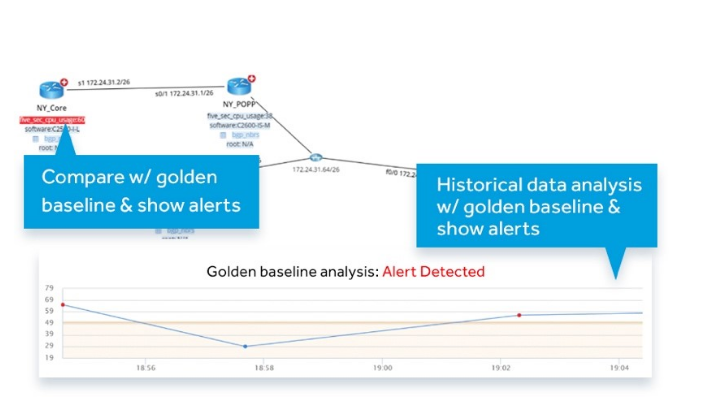 6. Enrich every IT ticket with automated map and just-in-time diagnosis
Every day enterprise network engineers get flooded with wave after wave of alerts, events, incidents, and trouble tickets. And each one of them has to be investigated by someone. With NetBrain, troubleshooting starts before a human ever touches a ticket. The second an event is detected — by a 24×7 monitoring solution like SolarWinds, or a ticketing system like ServiceNow, or a SIEM like Splunk — NetBrain does three things:
Automatically maps the problem area
Captures data as the problem is happening — just in time
Runs triage diagnostics
All results are documented on the Dynamic Map, and a link to the map is embedded inside the alerting NMS. All those first steps you'd take anyway have already been done by automation, with the results waiting for you.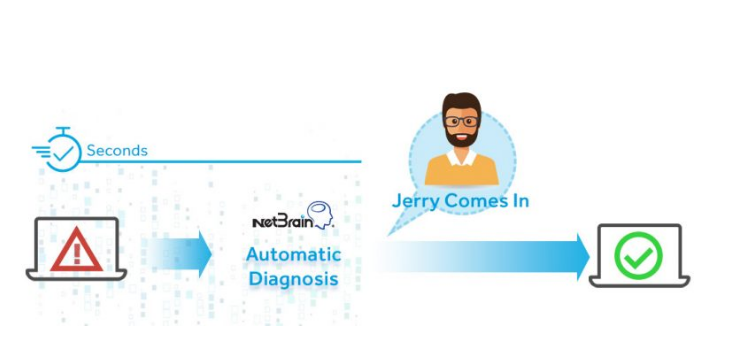 7. Integrate multiple toolsets using Dynamic Map as a single pane of glass
You have no shortage of enterprise network tools — ticketing systems like ServiceNow, monitoring tools, SEIM systems . . . and above all else, the CLI. All too often, you're forced to switch between screens or jump from one tool to another in order to get the full picture. NetBrain's Dynamic Maps integrate all these tools and all this information in one place — a "command central" for your network — so you can view multiple layers of data from multiple sources in a single pane of glass.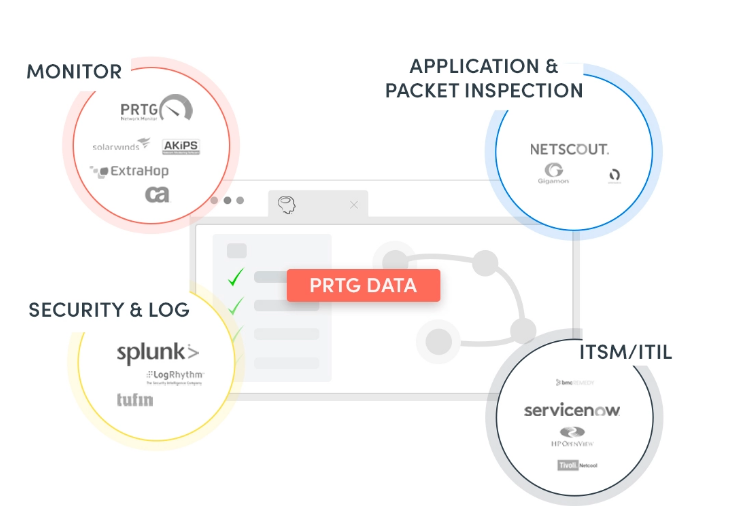 8. Reduce human error–induced outages, through change automation
Over 50% of all unplanned downtime can be traced back to some network change. That's why we say change automation isn't about speed — a lot of tools can push 50 lines of configuration changes automatically — it's about reducing self-inflicted outages caused by human error. NetBrain empowers you to define changes interactively, deploy them automatically, and proactively verify the impact to your critical applications. Roll back with a single click if necessary, and proactively troubleshoot the change before it becomes a disaster and then share the know-how to ensure smooth operational handoffs.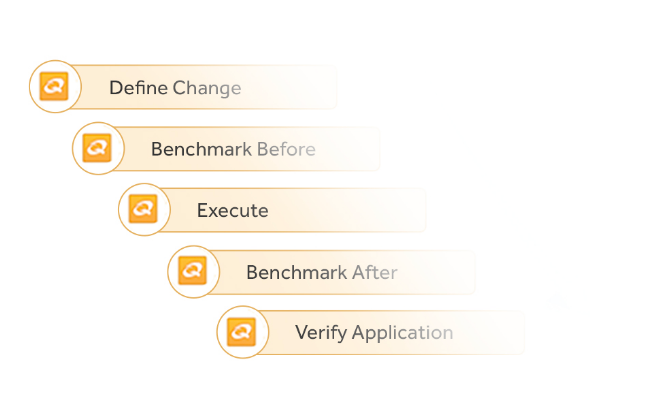 9. Improve data and knowledge sharing across IT organization
Are you dependent on a handful of experts who have most of the specialized know-how locked inside their heads (think: SDN, QoS, multicast)? Does that snowball into more troubleshooting escalations landing in your most senior engineers' laps and sitting in backlog queues — even though the issues could've been resolved within minutes further upstream? With up to 12,000+ data variables automatically documented within Dynamic Maps and troubleshooting how-to captured within Executable Runbooks, NetBrain is the first effective platform for IT collaboration.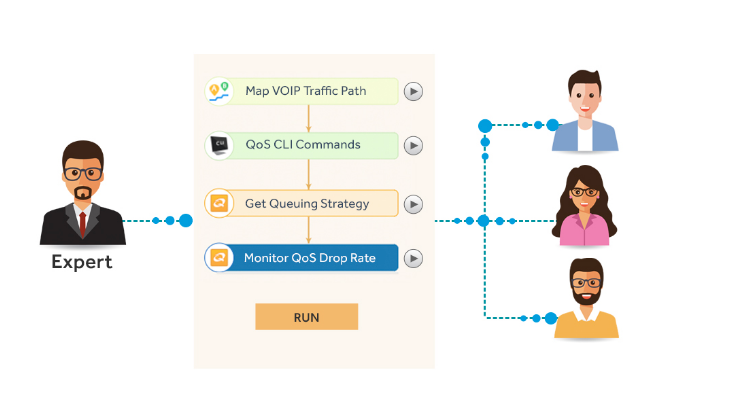 10. Reduce friction operating new technologies such as SDN and SD-WAN
NetBrain automation demystifies your Cisco ACI and VMware NSX environments and gives you the tools to simplify the management of your SDN data centers and traditional infrastructure as one single entity. Visualize exactly how everything is configured at any given moment — with one click, decipher SDN's layers of abstraction and virtualization overlaid on top of the underlying infrastructure — and map traffic flows across SDN in seconds. NetBrain gives everyone the know-how to tackle SDN with confidence.