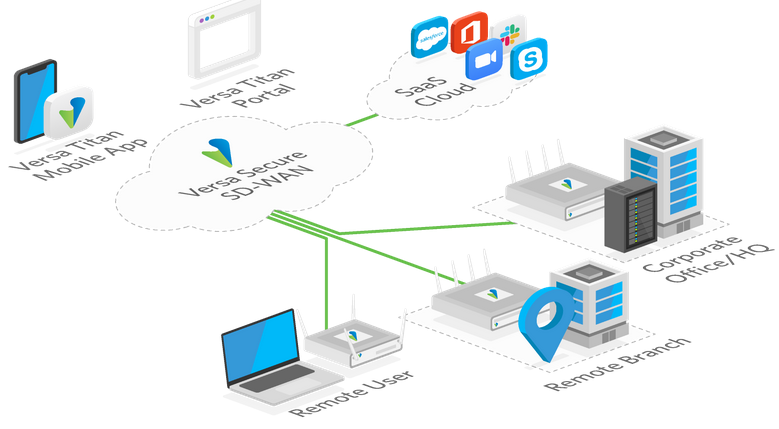 Cloud-Managed Networking and Security, Simplified.

Versa Titan delivers SASE with advanced application intelligence managed from the cloud, making it easier for IT to manage and secure their branch services. Powered by the market leading Versa Operating System (VOS), Versa Titan is the easy-to-deploy, cloud managed SASE solution for Lean IT and mid-market enterprises.
Versa Titan enables enterprises to accelerate business growth as well as simplify deployment and administration. Versa Titan includes multiple access types, automated multi-path site-to-site VPN, direct internet breakout to any application or user, dynamic application prioritization, and more.
The Easy Button to Connect, Secure, and Manage
Versa Titan helps organizations reduce cost, time, and complexity associated with WAN transformation. Versa Titan makes it easy to deploy and manage your network edge, while simplifying the branch with fewer devices. Organizations also gain enhanced visibility and control of applications, bandwidth utilization, network performance, and security vulnerabilities.
With Versa Titan, businesses achieve:
Context-Aware Networking and Security
Dynamic Direct-Cloud Access
Intelligent Automation and Orchestration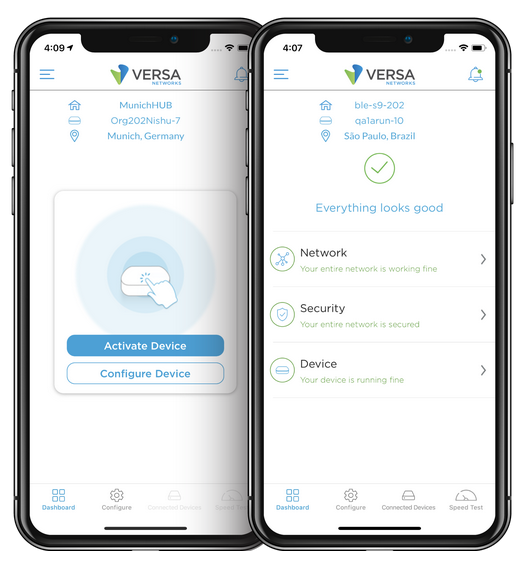 Versa Titan Meets Your IT Requirements
Quick and Simple Site-Activation
Automate deployments with zero-touch provisioning to quickly and easily get your sites up and connected without sending experts onsite. LTE, Broadband, or MPLS – doesn't matter, simply plug in and get connected.
Deploy with any WAN (MPLS, Broadband, LTE/3G)
Monitor anywhere with a mobile app (IOS & Android)
Configure with Zero-Touch Provisioning
Easily configure branches with intelligent default settings
Customize site configuration to achieve business needs
Better User Experience and Reliability
Versa Titan delivers SASE for user and application-level visibility and control, maximizing the performance of all available bandwidth and links, which improves business continuity and productivity.
User & application level visibility and control
Traffic selection and prioritization for direct Internet breakout
Choice of one or all available link and bandwidth
Traffic Conditioning: FEC, Packet Replication
Elimination of brown-outs and failover impacts
Easy Management and Administration
Versa Titan transforms user and operational experience with a modern web portal and mobile application. Administrators can intuitively and quickly activate, configure, secure, and troubleshoot branch sites and WAN.
Complete network and site status visibility
Speed tests on underlay & overlay to measure performance
Easy administration with an elegant web portal and mobile app
Automated security updates to protect against threats
Granular control for Wi-Fi, LTE, QoS, traffic steering, and security
Introducing Versa Titan Mobile App
Versa Titan Brings Simplified SASE to Your Mobile Device
Versa Titan provides the power of monitoring, configuration, troubleshooting, activation and support into a mobile device — making it easier to always manage your sites on the go and get visibility into the devices, users and applications being used across your branches.
Easy and Intuitive, Every Step of  the Way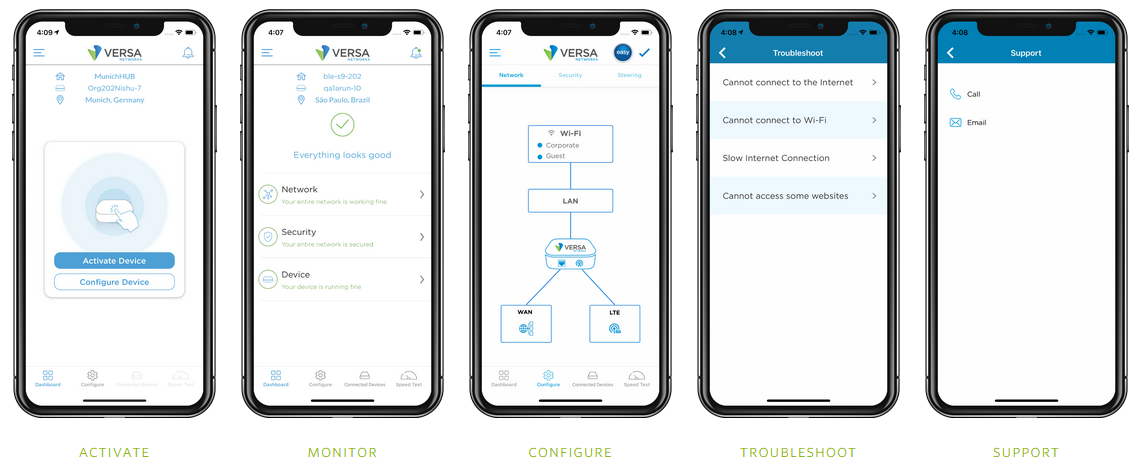 Cloud-Delivered
Versa Titan is a complete cloud-managed solution, designed specifically for Lean IT.
Versa Titan is a cloud-managed IT service that improves business continuity and operational efficiency. Versa Titan enables IT management anywhere, anytime via a cloud-managed portal and mobile app. IT is provided with granular contextual visibility to the users, devices, application and network of the entire system from the cloud. Deployment options are simple and secure, making it the easiest way to deploy SASE for Lean IT.
Centrally Managed Through Versa Titan
With Versa Titan, SASE is simplified into a super-intuitive infrastructure. Versa Titan cloud-portal components are in Versa datacenters and clouds, reducing investment and costs. Versa provides head-end hosting and infrastructure monitoring for all Versa Titan services. Versa Titan cloud-hosted components ensure availability, scale, accessibility, and branch-software upgrades.
The Versa NOC (network operations center) team provides round-the-clock care and maintenance of the entire cloud software infrastructure. Customers are able to self-activate, self-deploy and self-manage branch sites or engage with a certified Versa Titan partner who offers managed Versa Titan services.
Cloud Deployment Delivered Right to Your Branch Site
Versa Titan is enabled onsite via Versa Networks CSG appliances or 3rd party devices. Versa Networks does not sell Versa CSG appliances. Customers and partners must purchase CSG appliances through distribution who purchases direct from the manufacturer.
Versa CSG300 and CSG700 series appliances are designed for deployment in home offices to midlevel branches to deliver SASE for the enterprise WAN edge.